Email marketing is much more than just sending emails. It is an entire contact management system.
Email Newsletters for the Professional
Are you too busy to sit down and write a newsletter?
Do you want to keep your fitness business in front of your community?
Are you lost when you think about sending an e-newsletter?
Do these make you shiver when you think about having to learn what they are: HTML, SMS, TXT, IDK. . .
Keep your business in front of your clients every month or twice a month with my affordable Biz Mail service. It's an easy to use service that will have an e-newsletter out to your clients without the added "desk" time to keep you away from your clients.
January is the time when everyone begins their quest for health and making new habits. I know you're planning your strategy to get them in the doors now, and this will be a key instrument in keeping your clients interested and even more, it will be a friendly connection to encourage them on their fitness journey and keep them coming back.
Do you get stuck trying to figure out what to write?
Do you have tons of ideas while you're helping your clients get healthy?
Do your great ideas disappear when you sit down at your blank computer screen?
Did you run out of time this month?
Is the techie side of things driving you crazy?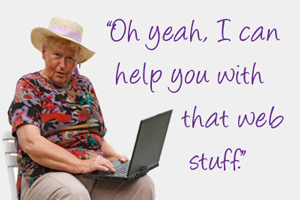 And where is that aunt who said, "Oh yeah, I can help you with that web stuff."?
So to take the pressure off of you, here's the easy and affordable solution!
Biz Mail
Here's how this will work. . .
1. Each month you'll choose an article from a library of high quality, pre-written articles.
2. You will send us your brief personal note, promotions, and list of classes.
3. THAT's it. You're done. Shooo! Back out there where you love to be!
We will do the rest. Edit, format, proof, test and send.
Your newsletter will go out in a beautiful, custom-designed template branded with your logo and your colors that we create for you at the beginning of the process. (The initial setup)
Have you ever considered what it costs you to do your own newsletter?
Let's say you have 8 people in your 1 hour group training class. Each person is paying you $20 per hour. That's $160 for 1 hour. It takes the average fitness professional about 6 hours to write, format, edit, test and send his or her own newsletter. I know that sounds like a long time, but answering the phone, someone comes in to ask you a question, your water bottle needs to be refilled…. The list goes on to distract you from doing your newsletter.
That's 6 hours X $160 = $960.00 Can you afford to lose $960.00 every month? If you send 2 newsletters per month, that's $1920 per month.
What if I told you, You could have a professional e-newsletter sent to your subscribers for less than what you make in one group session? Sound good?
Here's the investment and your opportunity to start 2014 with a professional newsletter and keep those January and February clients all year long!!
Our professional team of email marketers can handle all your email marketing needs:
Email Marketing Software Setup (Aweber, MailChimp, 1ShoppingCart, Infusionsoft and many more)
Provide professionally written article
Image/photo selection for main article
Ezine/Newsletter design, creation, and distribution
Customized Subject Lines and Send Dates
HTML Custom Designed Email Templates
Proofreading and link-checking of entire ezine
Conversion Tracking
Don't neglect this critical marketing strategy.
Here's the investment and your opportunity to start 2014 with a professional newsletter and keep those January and February clients all year long!!
When you complete your order you will receive an email with a link to a form to get us started on your design.
You will also be sent a list of topics to choose your first article
Someone will contact you by email or phone for a 30 minute consultation about your email template
Professional Email marketing will position you for success. And it's one of our specialties. We're ready to help you!